Yes I know it is addictive, yes I know you love to spend hours on there – which is probably the reason Facebook is blocked at your work. I did some work on a content filter last year at a medical company – we didn't actually block anyone but just monitored the sites the employees were visiting. The amount of time some individuals spent on Facebook, MySpace and Ebay was simply incredible – one female was spending 30 hours a week regularly on these sites !!!
The idea of monitoring these sites initially was to make a solid case for blocking them. You see the company had quite a relaxed Internet Usage Policy and they were quite happy to allow people personal access during lunch hours, breaks and after work. But obviously if you're spending that amount of time surfing the web you aren't doing much work!
So we Blocked Facebook …..
Now for ordinary people who just want to keep in touch, or check in with friends occasionally this can be a bit annoying. So I want to tell you a bit about how these sites are blocked and how you can access them. First of all though you should check your employment and internet policies – if there's stuff in there about not using the internet for personal use etc, etc and phrases like subject to disciplinary action appear – then you're probably best waiting until you get home. Accessing sites that your employer has blocked on purpose is likely to get you into trouble – but hey that's your choice.
Facebook Blocked By Firewall – Using A Web Proxy
The very simplest way to block access to a web site is just by using a proxy or firewall. Here you just create a simple black list of web sites which will not be allowed through. So for instance in this case we might have the URL – www.facebook.com or perhaps the IP address of the Facebook servers or perhaps both. All internet traffic will go through the firewall or proxy so when you request any sites in this list you just get redirected to another page (usually a warning page).
This is the way everyone used to do this, however it's pretty easy to get round now. If you look on the internet about ways to access Facebook at work or school you'll normally find the suggestion to use an external proxy (they'll have names like ninjaproxy or shadow proxy or something stupid like that! What happens here is you go to a proxy web site where you type in your URL (e.g. Facebook) into the proxy, which then fetches the page and displays it in a little frame for you. From your site you are communicating with the proxy server (not Facebook) and so the Firewall does not block your request.
In most places this doesn't work anymore for a variety of reasons, but the two main ones are:
The proxy sites themselves are blocked by the firewall
Most companies now use more sophisticated content filters which look inside the packet for the blocked site. Meaning using just a proxy won't work.
If your company doesn't bother with these, then you'll be able to use the web proxies online to access most content you like. In fact if your place is that lax on security you may be able to find a free proxy online and surf directly through it. Just search for some free proxies, find their IP address and input it into your browser under this screen which you can find under internet options/connections/LAN settings or something like that.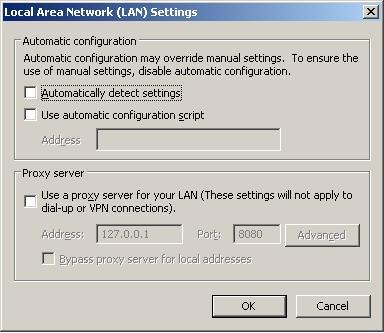 Here you relay all your request directly through an external proxy which is usually quicker and you don't have advertisements and little frames added to your browsing session. If you find a fast proxy then you will not even notice the difference from normal surfing.
Remember this only works in extremely lax environments so check it out before hand. Most places you shouldn't even be able to modify those settings in Internet Explorer (there's ways around this as well but that's for another post).
Facebook Blocked By Content Filter
This is the most difficult scenario to bypass because most of the content filters actually look at the data in each packet. So you may be surfing through a proxy or using a web proxy site but the content filter will still see the URLs you are accessing. So not only do you need the protection of a proxy server, but you also need some way to stop the content filter reading the URLs you are trying to access.
The solution is encryption, if you encrypt your connection nobody can see anything but the IP address of the server you are accessing. To do this you need either to set up a VPN between you and a trusted server or use something like Identity Cloaker which encrypts everything by default anyway. Of course Identity Cloaker is a paid service but if you just want to get round a facebook block then you're in luck as the demo version is available for free which allows access to Facebook!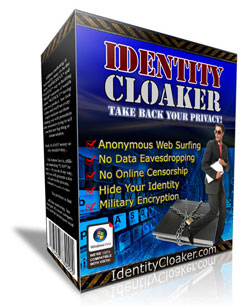 Click on the graphic to go to the download page, use the demo account supplied and you can run a secure encrypted tunnel to any of Identity Cloaker's servers. Through this you can surf through all of the most sophisticated content filters and security set ups. Of course this version will only work with the listed sites but at the time of writing – Facebook and Twitter are both on the allowed list.
So if Facebook is blocked and you want a solution – there you have it. But as mentioned earlier if your manager walk by and sees Facebook on your monitor – then they're going to know you've bypassed their filter !!! So be aware of you company policy. This will also work in all those countries who have blocked and filtered Facebook as well. There are other sites allowed in the demo modes which have also been blocked by many countries – such as Blogger, Twitter, Squidoo and Wikimedia for instance. If you want to use it for accessing other sites like BBC Iplayer, Hulu, Pandora etc, etc normally blocked by location – upgrade your subscription and help the Identity Cloaker guys out – it's a great deal, I like watching some of the Australian and Canadian TV channels from the UK.
Anyway hope this helps people and don't get in to any trouble !!
Tags: access facebook, facebook accessed, facebook blocked, facebook restricted